Hall of Fame
Since 1988, the West Aurora Blackhawk Sports Boosters have sponsored the Athletic Hall of Fame
(Class of 2018 pictured below-Brad Johns, Chrissy Ormond, Louis Smith, Jeff Ruffin, and Scott Theis)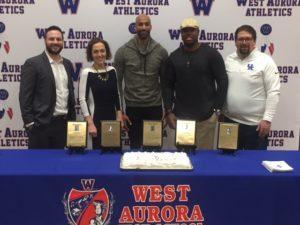 In addition to being listed here, plaques of the inductees are displayed in the Blackhawk Gym foyer.
What is the criteria for election into the hall of fame?
Truly outstanding contributions to the West Aurora High School athletic program by a student-athlete, coach or another individual, which clearly qualifies that person into membership into an elite group. These contributions will have resulted in not only local but regional, state or national recognition.
Demonstrated high levels of character, leadership, and sportsmanship while representing West Aurora High School.
For the student-athlete, continued success for a period of fifteen or more years beyond high school that reflects positively on the person, West Aurora High School, and the Aurora Community.
To view the list of Hall of Fame Inductees,
click here
. To nominate an individual for inclusion in the Hall of Fame,
click here
.